Leclerc Briant Champagne Cuvee de Reserve Brut
Price: €45,00
€37,19 Excl. tax
| | |
| --- | --- |
| Grapes | Chardonnay, Pinot Noir and pinot Meunier |
| Profile | Dry with a soft mousse |
| Match with | Shellfish, Salmonids, Clambs, Whitefish and when you just want to drink Champagne |
| Year | Without year, but the crop is from 2014 |
| Degorgement | May 2018 |
| Appellation | A.O.C. Champagne |
| Dosage | only 4 gramms of sugar |
| Production | Biodynamic |
In the Dutch media
The Great Hamersma 2018
American Beauty. But clarify. Leclerc Briant: tiny producer in Epernay. Until 2010 under, the more than inspiring, leadership of Pascal Leclerc. But fate struck. Leclerc died. And where then in wine fairy tales then the children pick up everything and perfect, that kite did not go on this trip. Two large Champagne houses, Lanson and Roederer, went off with the loot, the latter being mainly interested in the 12 hectares of biodynamic vineyards of Leclerc, already clean since 1947. Then a separate deal was concluded with an American investment company, which immediately complete team that worked for Leclerc again. The company has since grown into one of the leading biodynamic producers. With their 'simple' version here. Weighed dry and therefore never skimpy. Refined mousse without becoming too creamy. Virile white fruit. Called wine of the year category Champagne.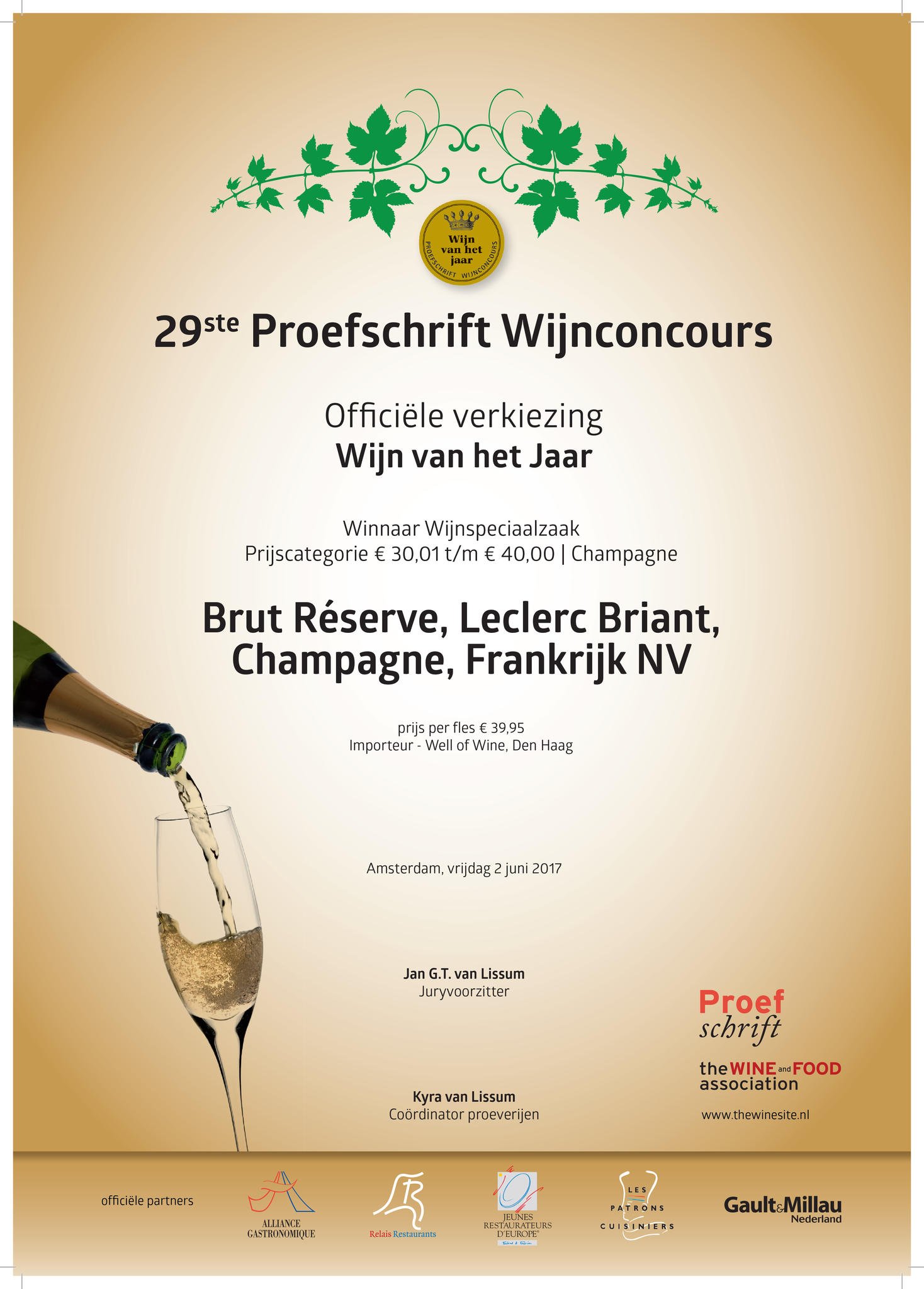 The Omfietsgids 2018
We tend to drink champagne - or secretly pour it into the nearest planter - while putting away sometimes is also a good idea. Not out of pity for that nearest plant, but because good champagne is even better. Anyone who opens a bottle of this as a moderate person and drinks a glass every day will notice that the champagne is getting better and better.


Winelife December 2017
Champagne that gets warm even on a cold winter's day. Ripe, rich, fragrant. Sip as an aperitif and the rest you drink at the table with a fish in cream sauce or coq au champagne. To enjoy!
BewarenBewaren