Add your review
Review Le Naturel 2019
Le Naturel 2019
Vintae le naturel Navarra Spain 2018
No sulphites added & biodynamically made
Ripe - exuberant fruit
Shop

buy by the bottle possible

Orders ordered before 12:00

NL within 48 Hours, BE & DE 2/3 days, UK in 4 days

Need Help?

+31 70 - 358 4336 - We speak English

Payment?

Safe with Ideal
| | |
| --- | --- |
| Grapes | Garnacha |
| Profile | Light & Fruity |
| Year | 2019 |
| Region | Navarra |
| Appellation | D.O. Navarra |
| Country | Spain |
| Production | Organic, no added sulphite |
About this wine
Le Naturel is a new project of Vintae by Jose Miguel Terrero (Rioja - guru).
In the media
The Omfietsgids 2018
Nicolaas Klei
"My party wine" wrote Nicolaas Klei in Elsevier and in ZIN magazine, "my Spaniard of the Year"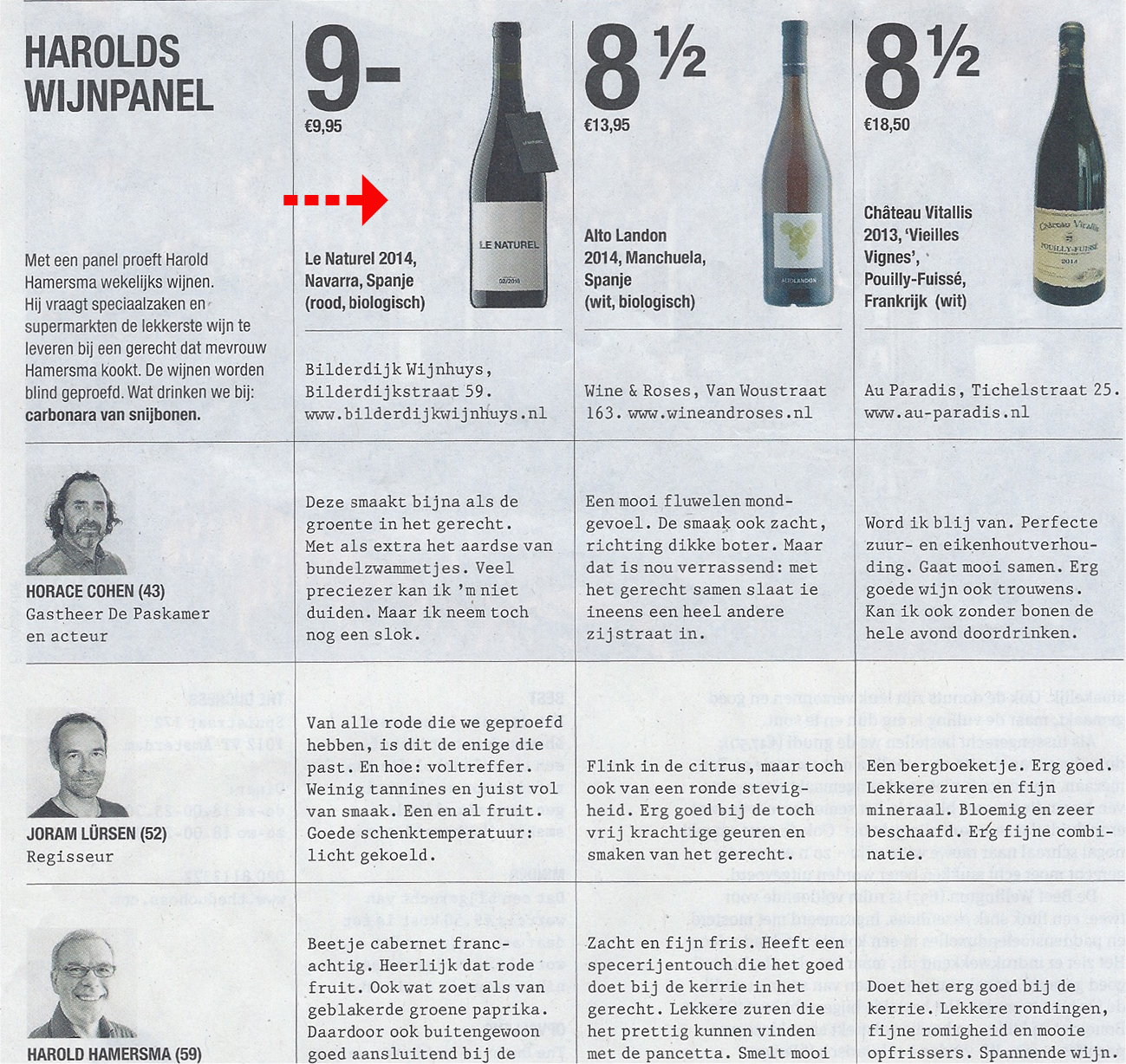 BewarenBewaren
The Omfietsgids 2018
A friend tells me that his sister is married to a rich man. "Old money, though!" he always says. "Oh, happy," I always say. Imagine that it is sparkling freshly minted florins. Still, I do not know. Former neighbors had old money. Unfortunately they had nothing, because the capital must be preserved, so they lived on potato peelings and scaly cat food. Undoubtedly giant chic, but they did not look that happy or happy. They also drank miserable wine, which gives you warts and athlete's foot and rubs the stomach wall. Glad I am not distinguished, but a good citizen, who drinks cozy wine with his ball chopped. And for little too. Old fashioned ruigrode pure natural wine Le Naturel. Made from pure grapes. Nothing taken away, nothing added. Biochemist and Beaujolais producer Jules Chauvet started in the 1950s, and the gospel spread out. Now even in Spain. Because no sulphite is added, pure natural wine is vulnerable. Transport and store under fourteen degrees, is the advice, and also cool drinking. And young. (The wine, not the drinker.) Now well-made pure nature wine can have more than one fears, they survive well in my faulty vineyard, but it is a wonderful excuse for immediate consumption. Where sipping nips can sometimes degenerate into greedy clocks. The first pure natural wine bar is called Glouglou ... Party forest full of frisian cherry fruit from grenache with this harvest extra exciting spicy scents. Without haircuts, far from nouveau riche. No money.

The Great Hamersma 2018
I once wrote NRC an epistle about the fact that I think that a lot of wine should mention an at least sustainable by date. Why? Because most wine, including red, should not be too long. At most a year, sometimes one and a half. This producer informs about this. In fact, it stands out for it. On the back label I read that this Le Naturel is a wine without sulphite, meant to drink fresh and especially as young as possible. On a graph, I can also see that Le Naturel provides me with the most fun in this case up to and including November. With cool, crispy, crunchy, coquettish red fruit. Plus a bit of bitterness in this fresh version. Do not put away. Drink now. And know that when the supply is finished, a new bottling is already underway.
BewarenBewaren